Kristen L. James, DVM, Owner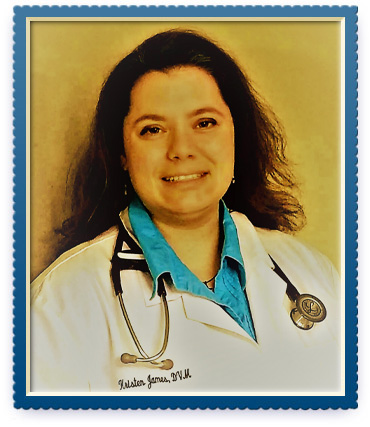 Dr. Kristen (Pikul) James was born in Virginia and lived there until middle school. She spent a few years in California before moving to Michigan, where she graduated high school as salutatorian and went on to Michigan State University. She received her B.S. in Zoology in 1997 and then her Doctorate of Veterinary Medicine in 2001. She returned to Virginia so that she could be near her family and worked in the Richmond area for 12 years before spending the next 6 years near Spotsylvania county. Dr. James purchased the Animal Hospital of Ivy Square in 2020 and moved to Waynesboro.
Dr. James has worked at a variety of clinics ranging from single doctor to large multi doctor practices, rural to corporate, and has been an associate, a medical director, and a relief veterinarian. She is a member of the American Veterinary Medical Association, the American Feline Practitioners Association, and has completed her Fear Free Certification. Dr. James has spent much of her career in AAHA accredited hospitals. Regardless of where she's been, her passion has been to provide the best possible care to her patients and to treat their owners with care and compassion. She enjoys routine preventative care and surgeries as well as complex medical cases and dentistry.
Outside of work Dr. James and her husband are active in their church, enjoying being members of the choir. They are also dog lovers and currently have two dogs. "Banjo", a sheltie/chow mix, is a certified therapy dog. He's 11 years old and a tripod (missing one of his front legs) and he participates in a Paws for Reading program where he goes to a school or local library so that kids can read to him. He also visits nursing homes, hospitals, and colleges during finals so that he can get loved on by everyone he meets. "Maverick" – aka Squirt - is the newest member of the James family, coming from Animal Connections. He is a cavapoo puppy who is full of spunk and enthusiasm and just loves life! His favorite things to do include licking ears and playing with leaves and twigs.