Useful Websites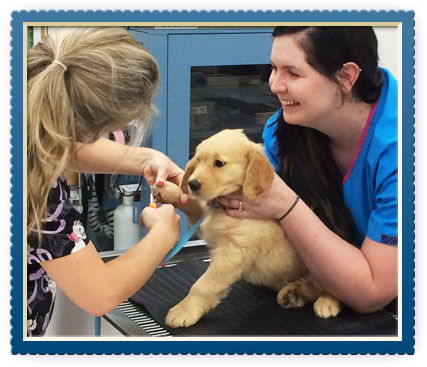 Basic Dog Care from Purina.
The American Kennel Club's list of dog breeds from A to Z.
Learn About Heartworm Disease in Dogs and Cats.
The American Animal Hospital Association (AAHA) has many wonderful pet owner resources available.
In addition, the American Veterinary Medical Asociation (AVMA) has a pet owner information section.
The Cat Fancier's Association has information on cat shows, cat breeds, cat care, as well as a showcase of top winning cats.
Cat care tips from Purina
Cornell University Veterinary School's Feline Health Center website contains information on medical topics relating to cat health care.
Ohio State University's Indoor Cat Initiative provides information related to enriching the lives of indoor cats.
Another great site for helpful medical and behavioral information is catfriendly.com, sponsored by the American Association of Feline Practitioners (catvets.com)
To take the Fear Free movement from the clinic to your home, check out "Fear Free Happy Homes".
Visit the ASPCA Animal Poison Control website or the Pet Poison Helpline website for information about pet poison emergencies and preparedness.
Learn more about the human-animal health connection at the Pet Partners.
More General Pet Care information provided to you by the ASPCA.
Are you looking to adopt a pet? Are you looking for a lost pet? You can do both at PetFinder.com.
Recommendations for the diagnosis, treatment and prevention of parasite infections.
Pet Adoption for Seniors: Benefits, Care, and Risks
Check out Trupanion Pet Insurance to learn how to be prepared to pay for your pet's next illness or emergency.
Is your pet protected with a Home Again Microchip?
The University of Florida offers a Grief Support Hotline plus some articles on coping with pet loss.
Tufts University offers a Grief Support Hotline and articles regarding the loss of a pet.
Cornell University College of Veterinary Medicine's Pet Loss Support Hotline
Visit DogFriendly before you plan your trip.
Basic information on domestic and international travel of pets by the US Department of Agriculture