About Us
Advanced and Compassionate Pet Care
in Charlottesville Since 1993
Selecting a veterinarian is one of the most important decisions you make as a pet owner. When you choose Animal Hospital of Ivy Square to be your pet care partner, you can be assured your pet is receiving care based on the most advanced medical protocols from a skilled, dedicated team of veterinary professionals.
Pet Wellness Exams for a Lifetime of Great Health
The centerpiece of your pet's healthcare plan at our animal hospital is regular pet wellness care that includes comprehensive examinations, dental care, customized vaccinations and parasite prevention. Identifying issues before they become serious is the key to your pet's long-term good health and keeping the lifetime cost of care as low as possible.
Advanced Veterinary Medicine
We understand an illness or injury can be a serious concern, and that's why our veterinarians and medical team are here to provide the experienced, thorough veterinary care that's especially important when your pet is unwell. Our state-of-the-art diagnostic technology and surgical expertise mean we can work quickly to get you answers and restore your pet's good health.
Involving You in Your Pet's Healthcare
It's our job not only to protect your pet's health, but also to make sure you have the knowledge to be the best possible caregiver to your pet at home. That's why the veterinarians and staff at Animal Hospital of Ivy Square invest our time in getting to know your pet, talk with you and give you all the information you need to make the right decisions for your companion.
We Are Your Other Family Doctors
Thank you for taking the time to learn more about our animal hospital in Charlottesville. If you have any questions or would like to schedule an appointment, call us today at (434) 295-8387 (VETS). Please ask us about our discounted wellness examinations for new patients, our discounted dental health checks, the multi-pet discounts and payment plans we offer.
We look forward to meeting you and your pet!
Location & Hours
We Are Located At:

2125 Ivy Road
Charlottesville, VA 22903
(434) 295-8387

Hours of Operation:

Monday: 8am-6pm
Tuesday: 8am-6pm
Wednesday: 8am-6pm
Thursday: 8am-6pm
Friday: 8am-6pm
Saturday & Sunday: Closed
Appointment Policy
To allow ample time for all patients and scheduled surgical procedures, we operate primarily by appointment. Emergency cases shall always receive top priority, which is why occasional appointment delay is inevitable. We make our absolute best attempt to see each client on time.
For your convenience, drop-off appointments are available. A drop off means you bring your pet at the time that works best for you and leave him/her with us for a couple of hours. Usually we'll ask you to drop off sometime in the morning so our doctors can examine the patient between appointments or at the time reserved for admitted patients. Once the doctor is done, he or she will call you to review the diagnosis and provide discharge instructions.
For the safety of all animals in our care, we require that all vaccinations be up to date.
Payment Policy
We require full payment at the time services are rendered. For your convenience, we accept Visa, MasterCard, Discover, Care Credit, cash and personal checks. To help make providing your pet with the best veterinary medicine available possible, we also offer payment plans to qualified clients. Please ask us for more information.
Patient Arrival Policy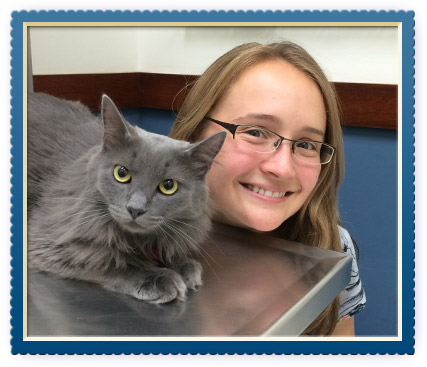 For your protection, and that of others, all dogs must be on a leash and properly controlled while in the waiting area or exam rooms. All cats must be presented in an appropriate cat carrier or on a leash. We recognize that not all of your pets are happy to visit us, many are in fact quite fearful. That is why we do our best to ensure a Fear Free® visit for your pet. Please let us know when you call to schedule if there is anything that we can do to make the visit more pleasant for your pet or if we might prescribe medications to help reduce their anxiety during the visit.
In the Community
Giving back and staying involved in the Charlottesville community is an important way we say thank you to all our clients and their pets. Animal Hospital of Ivy Square is the primary veterinary hospital serving Animal Connections, a home-based foster organization dedicated to helping pets find their forever homes. We also assist Greendogs Unleashed, another local rescue organization, with our services. Over the years, we've been able to provide low-cost medical and surgical services to thousands of homeless animals.